Today marks the beginning of many good things we are excited to share with you.


Every Wednesday, starting today, Indigenous Peoples Task Force is hosting a fire for the community to offer prayers. Please stop by and offer your asemaa. Our address is 1335 E 23rd St., Minneapolis.


Today is also the opening of our annual Native Youth Art Contest. Every year the creative resilience of our youth blows us away. Please spread the word and get creative.


Today I'm very proud to announce that Indigenous Peoples Task Force received a $200,000 Direct Relief Grant for a health equity project. We are excited about this increased capacity for supporting families and communities during the opioid epidemic. More below.


I am also happy to share the good news that we have received a Minneapolis Foundation Capacity Building Grant along with funding from the American Rescue Act which is leading to the creation of a new Donor Relations and Grants Manager position. We are looking for a bright, experienced individual to join our team.


These successes and the anticipated ground breaking for our new building in the spring give us a lot to look forward to in 2022.



Funding for Health Equity
Indigenous Peoples Task Force received a funding award from the Direct Relief's Fund for Health Equity. The funding support will benefit multiple programs at IPTF. All of the projects are an effort to address the opioid crisis that continues to take lives and disrupt families and communities all across Minnesota. A brief summary of the new projects include:


1) A fully equipped mobile unit that will support IPTF's work to address rising HIV infection, Hepatitis C infections, and opioid use harm reduction with improved outreach and resources for rural Native communities in Minnesota and neglected individuals in the metro.


2) A new internship program for Native young adults to experience jobs within the Medical Field. The program is addressing the opioid epidemic through job opportunities within the Minneapolis Indigenous community. Partnering organizations to host an intern include: Indian Health Board, Minnesota Indian Women's Resource Center, Minneapolis Fire Department, Hennepin Health, and IPTF. All of the interns will be trained in culturally specific peer support toolkit in order to have the skills to address opioid use within their social network.


3) Support for an onsite Elder in Residence at IPTF to be a cultural resource for East Philips residents and increase use of traditional medicines.

Native Youth Art Contest Open Now!
The 4

th Annual Keep The Fire Alive Art Contest is beginning 2/2/2022! This year's theme is "Who are YOU, under the Mask?" All Native Americans 10-24 years old are eligible, no geographic limitation. There will be a weekly winner announced each Friday for a $20 cash prize. No limit on entries. Get creative!!!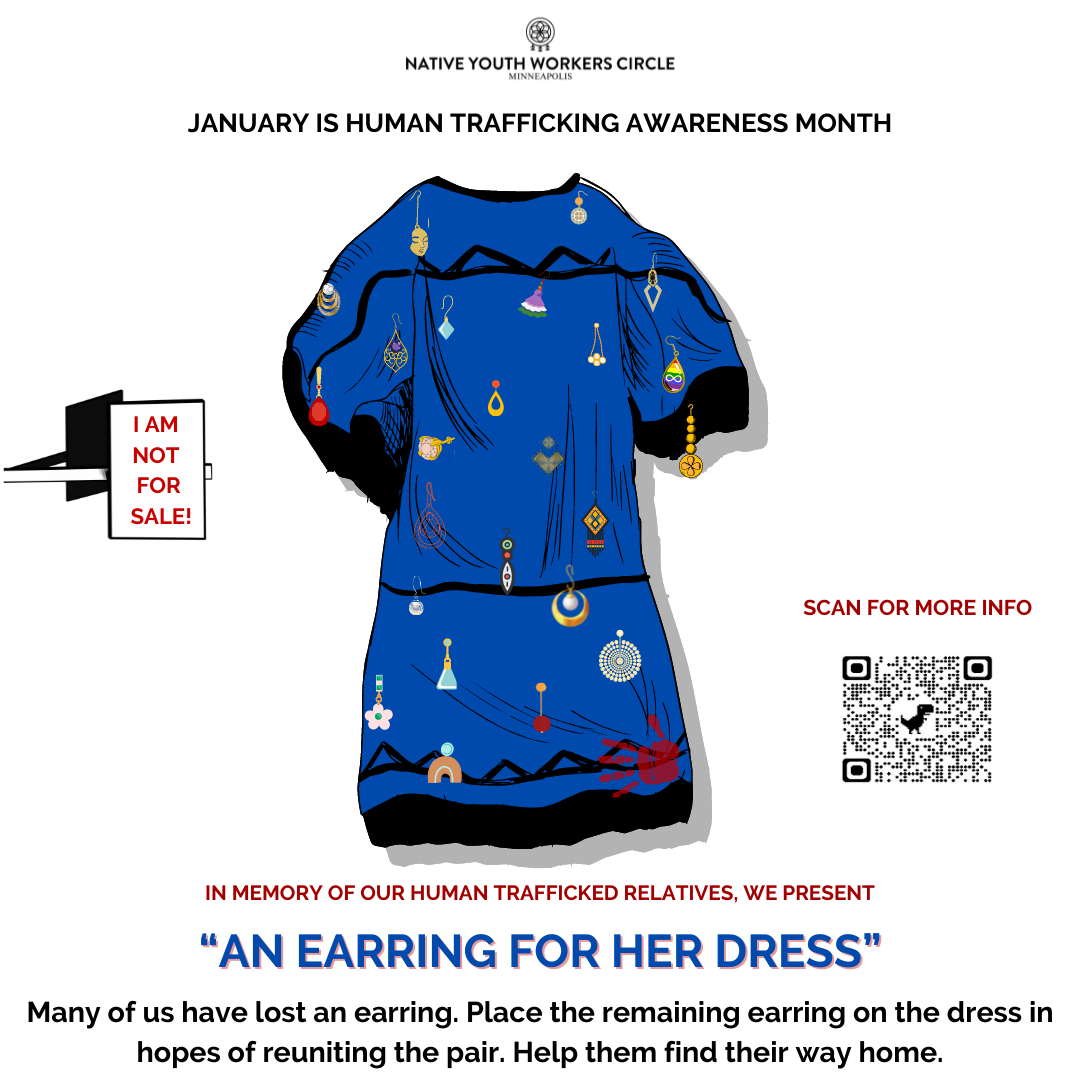 Blue Dress Sex Trafficking Awareness Project
IPTF is participating in the Blue Dress Sex Trafficking Awareness Project with other Native organizations in Minneapolis. You can see the blue dress with single earrings hooked on the dress at NACC, Little Earth, DIW, and IPTF. Each earring represents the prayer for someone lost to sex trafficking to return home safely. More information and resources here.

IPTF became a part of the Hennepin County Trusted Messenger program to connect community members to COVID-19 resources. The state of Minnesota is offering a $200 Visa gift card incentive for 5-11 year olds who complete both doses of the vaccine before February 28th, 2022. Schedule your first vaccine soon! Parents and Guardians can register their child for the incentive on the MDH webpage here: https://mn.gov/covid19/vaccine/vaccine-rewards/kids-deserve-a-shot/
Meet the Two New Members of the Youth Programming Team
Salena Tucker (Leech Lake) is the Programming Assistant II. Salena is an alumna of IPTF youth programming. She was a member of the "Wait" ensemble from 2013-2016, she was part of the Rethink Your Drink Campaign, a member of the Waybinagay Program, participated in Water Walks as a youth, and we are very excited to have her working with us in 2022!
Ramiro Vazquez Jr. (Turtle Mountain) is the new Keep The Fire Alive

Facilitator and Program Assistant. Ramiro has more than 10 years experience working with youth of color through a variety of programs within the City of Minneapolis. His previous position was with the Minneapolis Youth Coordinating Board where he worked directly with youth and supported teens in their development of leadership skills and advocacy.
We are excited to have Salena and Ramiro with us!
Join our team!
Current position openings:
Donor Relations and Grants Manager – Open Until Filled