It's time to plant new seeds
These were the prophesies
All of us residing on turtle island
Be the light of a new day
Each heart/seed a precious star


Excerpted from an address by Sharon M Day to a school assembly this spring.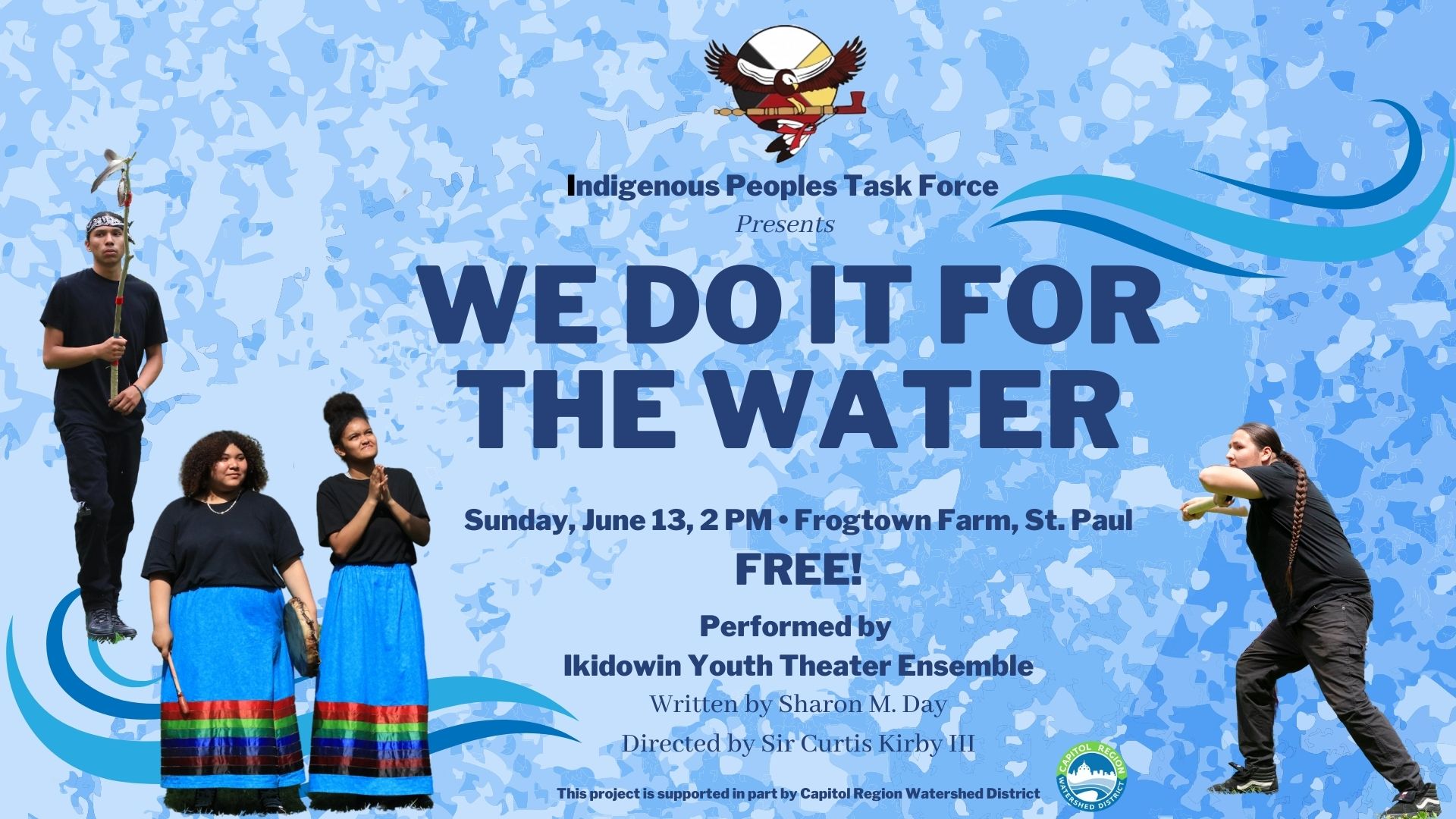 We Do It For the Water
Two free upcoming performances!
Chisholm Discovery Center, Thursday, June 10, 6 PM
1001 Discovery Dr, Chisholm, MN 55719 - Learn more
Presented with support from the Minnesota Humanities Commission's We Are Water Exhibit


Frogtown Farm, Sunday, June 13, 2 PM
Presented with support from the Capitol Region Watershed District


Join us for a performance that weaves stories of Indigenous struggles to protect our water, beginning with saving Camp Cold Water Spring, the Mother Earth Water Walks, the Nibi Walks and The North Dakota Access Pipeline. The water walkers and water-protectors presented a non-violent message that united Native people and non-Native environmentalists. Written by Sharon M Day, directed by Sir Curtis Kirby III, and performed by the dynamic youth of Ikidowin Acting Ensemble.

We've Selected the Contractor to Building Our New Building
We are very excited to be working with Noor Building Contractors to build our new center for art and wellness, Mikwanedun Audisookon. Noor Building Contractors is a woman-owned, minority-owned business that most recently renovated the Target at Lake Street and Minnehaha Avenue in Minneapolis. We expect to break ground at the end of the summer.


If you have been meaning to contribute to the Capital Campaign, now is the time! Every last dollar will be invested in our community.
Walleye Tacos &
COVID-19 Vaccination
Thursday, June 10, 4-6 PM
1001 E Lake St, Minneapolis


Join us for a free meal. The Johnson & Johnson COVID-19 single shot will be available for anyone who chooses to be vaccinated.


Youth Art for Mental Health
We have been wowed by the creativity and expression of the Native youth who shared their work with us through the Keep the Fire Alive art contest. The theme was Mental Health Matters!!!: Healing, Humor, and Change.