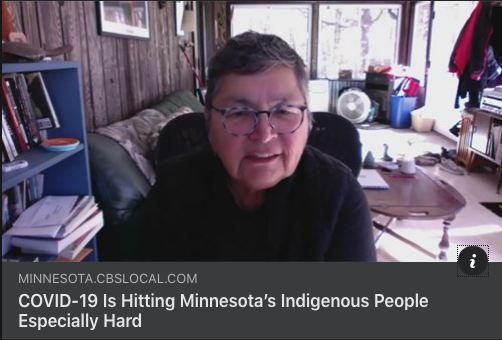 Boozhoo!
The seasons are changing quickly and the work of preventing the spread of COVID-19, helping the unsheltered, and serving people with HIV is changing quickly too.


We already knew Minnesota's Indigenous community experienced terrible disparities in every aspect of life. COVID-19 is only making this worse. Infection rates are 4x higher for the Indigenous community compared with the white population, and our rate of fatality is 8x higher. We do not want to lose any of the precious people this statistic represents. We are partnering with the MN Department of Health in engaging our community to prevent the spread of COVID. (See the many resources in this newsletter.) We are partnering with the state to distribute food since COVID has made food insecurity an issue for many. We are also continuing to do everything we can to eliminate the underlying disparities.


Our early winter is beautiful, but also one more challenge during these turbulent times. Hang in there! Tomorrow is a new day and we all want to be around to see the sun rise in these darker times of less sunlight.



PLEASE VOTE!
This election is very important and everyone should have a say in choosing our future leadership.
We Raised the Tree of Peace
We are grateful for the many people - artists, singers, leaders, and more - who collaborated with us to raise a Tree of Peace, Tree of Life, Tree for the Future at the MN State Capitol. Photo by Bruce Wilcox.


Bonding Bill Passes!
The Minnesota State Bonding Bill passed both the Senate and the House with $2 million to support the construction of our new building, Mikwanedun Audisookon Center. We are grateful. We are almost to our fundraising goal! Look for more building news soon.
Dia De Los Muertos Caravan
The youth from Ikidowin and Keep the Fire Alive will be performing at the Eastside, Southside, and Westside locations of this special Dia De Los Muertos Caravan on Sunday, November 1.
Interacting with Clients in New Ways
The Indigenous Peoples Task Force staff team is in the office on a rotating schedule to reduce risk of transmission of COVID. We are actively developing new ways to interact with our clients.
Know What to Do If You Think You May Have Been Exposed
Please see the CDC guidelines for when to start and stop quarantine. The bottom line is that if you think you have been exposed, even if you test negative for COVID-19 or feel healthy, you should stay home (quarantine) since symptoms may appear 2 to 14 days after exposure to the virus.


Receive text alerts about free COVID-19 testing events. Text BeSafe to 1-855-INDIGIS
Edit this to insert text.
Posters Available to Promote Behaviors that Prevent the Spread of COVID-19
If you would like some posters, contact Nicole Christian at (937) 689-3701.
Upcoming COVID-19 Testing Days in the Metro Area
For a full list of upcoming testing events click here.


Free COVID-19 testing events coming up
The City of Minneapolis is offering free COVID-19 tests in Minneapolis communities. All are welcome. You do not need insurance for the test.

Saint Paul United Church of God in Christ, Thursday October 29 and Friday October 30, 2:00 - 6:00 p.m. at 277 W Lafayette Frontage Road, Saint Paul. Register online: https://www.primarybio.com/r/stairstep
You can expect to get your test results in about two business days.


Ongoing FREE testing

Free COVID-19 tests focused on the Cedar-Riverside community hosted by Pillsbury United 1-4 p.m. every Friday Brian Coyle Center, 420 15th Ave. S. Note: Double-check with Pillsbury United for possible updates before heading over.