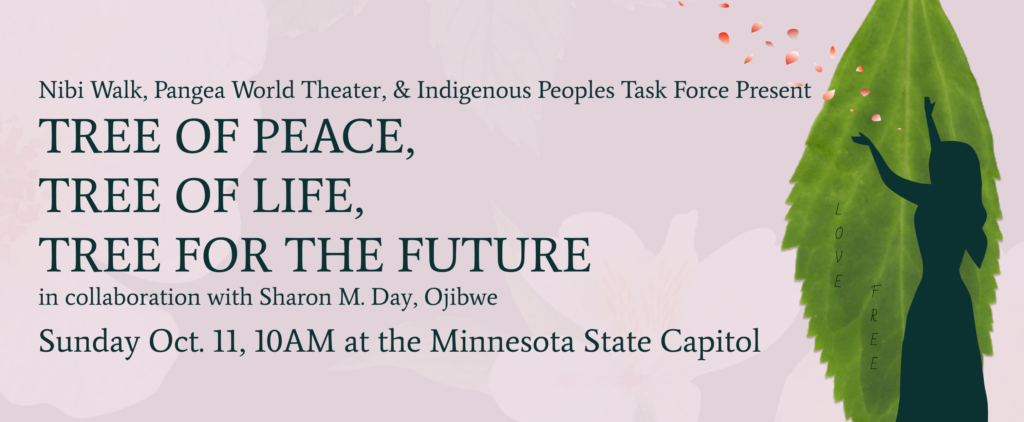 Raising the Tree of Peace, Tree of Life, Tree for the Future
Sunday, October 11, 9:00 a.m. – noon at the Minnesota State Capitol Steps


Over the last few months, many people have been responded to Sharon Day's invitation to send their messages to future generations. From a place of deep love, the purest truth, and with hope, people created leaves with their messages to be part of the Tree of Peace, Tree of Life, Tree for the Future. People from all over Turtle Island contributed to this large scale sculpture.


We will raise the tree at the Minnesota State Capitol with the wish that our leaders enact policies that reflect our prayers that everyone be able to live a good life.


9:00: Raising the tree.
10:00 -10:30: Time for making leaves or writing on leaves that are blank.
10:30: Program featuring an exciting line-up of speakers, poets, singers, and round dance.

Lt. Gov. Peggy Flanagan
Meena Natarajan and Dipankar Mukherjee, Pangea World Theater
Sharon Day
One Voice Mixed Chorus
Rep Mary Kunesh-Podein
Barb Tilsen
Tom LeBlanc and Ben Weaver
Ikidowin Youth Theater Ensemble
Senator Patricia Torres Ray
Oshki Gishiik Women Singers
Sara Thomsen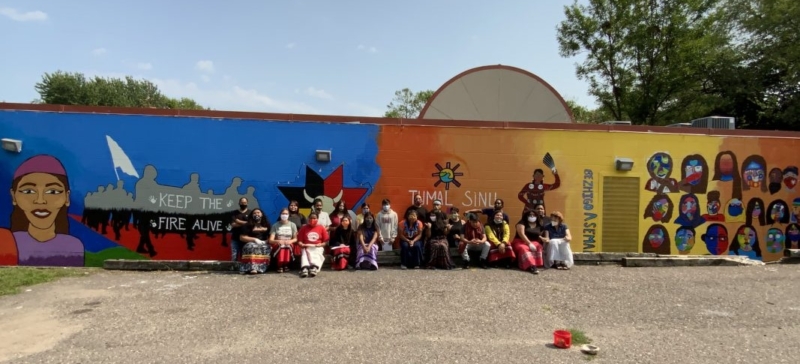 Creativity and Community with our Youth
Summer Mural Project
Fall programming
This fall Keep The Fire Alive and Ikidowin will be working with 20 Native Youth. Due to COVID our new participants are all members of the same households of our returning participants and we will practice social distancing and precautions as we did in the summer. IPTF Youth Programming continues to offer a multiple programs to the teens. We will continue to partner with the First Peoples Fund and use the Emerging Poets Program to our older participants. They will improve their expression through poetry, gain exposure to the many Native American poets, and learn new types of poetry.


Follow us!
You can follow us on Facebook @Ikidowin IPTF and on Instagram @Ikidofiresema.


Coming soon
Soccer! We are including the fun of soccer - and the benefit of physical activity - into our Ikidowin Program.


A New Play! We are addressing the current turmoil due to COVID-19 and the George Floyd uprising with a youth and community written play. The piece will be written by Sharon Day and directed by Curtis Kirby III. It will present the Twin Cities Native Youth perspective locally, and the historical context as Native Americans have faced disease and oppression.


Rock on, Payton!
Keep The Fire Alive Staff member Payton Counts became a published author in August! Fish, J., & Counts, P. K. (2020, August 11). "Justice for Native People, Justice for Native Me": Using Digital Storytelling Methodologies to Change the Master Narrative of Native American Peoples. You can read the paper here: https://psyarxiv.com/y2w3v/
How We are Caring for Our Community
We continue to do all that we can to care for the health of our community - through services and prevention.


Housing and Healthcare
We continue to follow and build relationships with people living at the Wall of Forgotten Natives. We offer connection to housing and healthcare insurance coverage for folks in need of temporary, transitional, and permanent housing resources, as well as assistance navigating the MNSure system.


HIV/HepC Testing
Testing hours are Mondays, Wednesdays, and Fridays only, from 8:30 – 2:30. If possible, call 612-834-7938 to schedule a testing appointment. Drop-ins welcome. Mobile testing coming soon.


Syringe Exchange
Syringe Exchange hours are Mondays, Wednesdays, and Fridays, between the hours of 1-4. Please text 651-808-3965 before arriving so we know how to prepackage your supplies. Clients will receive a week's supply. Walk-ups are welcome.


Overdose Prevention
We continue to distribute Narcan kits and provide online trainings to groups on overdose prevention. Contact Emma at (763) 639-9093 to learn more.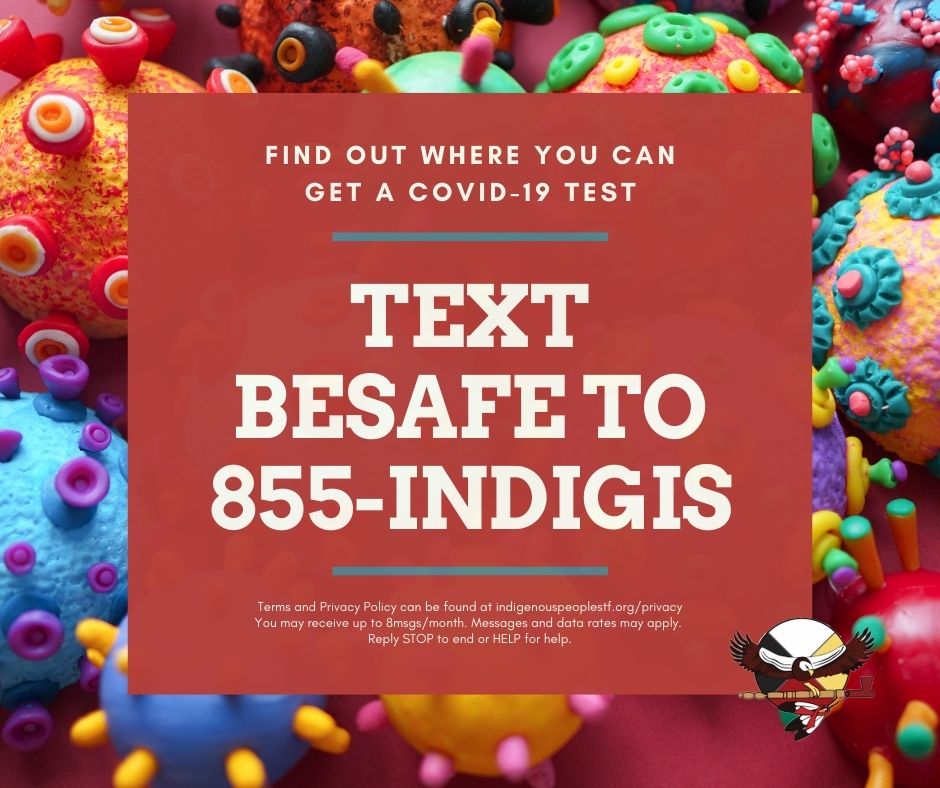 Upcoming COVID-19 Testing Days
Free COVID-19 testing events coming up
The City of Minneapolis is offering free COVID-19 tests in Minneapolis communities. All are welcome. You do not need insurance for the test.

Masjid An-Nur Mosque, 1729 N. Lyndale Ave. 2:30-5:30 p.m. Thursday, Oct. 1 10 a.m.-1 p.m. Thursday, Oct. 8 10 a.m.-1 p.m. Thursday, Oct. 15 Somali interpreters will be available. Register onsite.
New Salem Missionary Baptist Church, 2507 Bryant Ave. N. 2-6 p.m. Thursday, Oct. 8 2-6 p.m. Friday, Oct. 9 Register onsite.
St. Peter's AME, 401 E. 41st St. 2-6 p.m. Thursday, Oct. 22 2-6 p.m. Friday, Oct. 23 Register onsite.
You can expect to get your test results in about two business days.


Ongoing FREE testing

Free COVID-19 tests focused on the Cedar-Riverside community hosted by Pillsbury United 1-4 p.m. every Friday Brian Coyle Center, 420 15th Ave. S. Note: Double-check with Pillsbury United for possible updates before heading over.
Free COVID-19 tests focused on the American Indian community at the Indian Health Board on Tuesdays and Thursdays. Call 612-721-9800 to schedule.
Free resting in Duluth at the DECC,Wednesday - Friday, 12 - 7 p.m., Saturday - Sunday, 10 a.m. - 4 p.m. Schedule Appointment with Vault Health