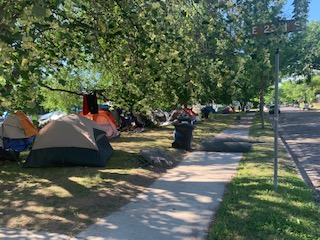 Minneapolis Homeless Encampment
In the last month an encampment of unsheltered people began on the vacant lot next to the Indigenous Peoples Task Force office in the Phillips neighborhood. There are currently about 30 tents in the camp. We are working to keep the people in this encampment safe from COVID, HIV, and violence.
COVID-19: We have got confirmation from the State that we have several COVID positive cases in the encampment. Healthcare for the Homeless has been helping people who test positive get into the isolation hotel to recover. Unfortunately, because of other challenges faced by those in the encampment, not everyone is willing to wear a mask or wants to get tested so the disease continues to spread.
HIV: The recent outbreak of HIV in our neighborhood that began this winter and infection numbers continue to increase. Many of the people in the encampment are at a high risk for HIV and this is another reason why we are being vigilant about getting people into shelter or housing as soon as possible. If someone is HIV positive they cannot afford to get sick and are particularly vulnerable when living conditions are cramped or unsafe.
Violence: We are working to protect the people in the encampment from any violence that may be going on in the neighborhood. This week we installed a fence around the encampment as a form of protection. As the saying goes "good fences make good neighbors." There have been a few instances of nearby violence and the police are not always responsive. Maintaining a daily check-in with the people at the encampment has been an important way to stay on top of public safety issues.
Indigenous Peoples Task Force has worked to find housing for people and there are several good opportunities for those who test negative for COVID. We are helping connect people with medication assisted treatment (MAT), PrEP (pre-exposure prophylaxis) to reduce the change of being infected by HIV for those at high risk, and outpatient treatment. For more information contect our Outreach and Housing Navigator, Lisa Kaste, at 612-849-6928 or our Syringe Services and Medication Assisted Treatment Navigator, Abiel Gebrehiwat at (612) 968-7891.
Our unsheltered neighbors in this encampment are too often forgotten. This is unfortunately one of many encampments in our cities right now. We ask you to see them, remember them, and help us protect them.